Florencia Escudero
60 x 40 inches, acrylic on canvas, 2019




Kaitlin Zorah Mcdonough
50 x 36 inches, oil on canvas, 2016






Relative Fields in Motion





Heidi Howard was born in New York City in 1986. She paints portraits to expand our conceptions of the individual. Howard has exhibited at Nancy Margolis Gallery, New York, NY (2017, 2016, 2015), Gaa Gallery, Provincetown, MA and Cologne, Germany (2019, 2018, 2017), W139, Amsterdam, the Netherlands (2018), The Hunterdon Museum of Art, Clinton, NJ (2017), James Cohan Gallery, New York, NY (2016) and many more. She has been an artist in residence at the Rauschenberg Residency (2020), Palazzo Monti (2018), Byrdcliffe (2014) and the Vermont Studio Center (2011). She received her BA from Sarah Lawrence College and her MFA from Columbia University. Her collaborative installation with her mother, the interactive sound sculptor Liz Phillips, "Relative Fields in a Garden", is on view at the Queens Museum until February 2020.

Cover Images

Jules Gimbrone

, 36 x 29 inches, acrylic on canvas, 2019

Judy Pfaff

, acrylic on canvas, 55 x 42 inches, 2019

Ben Hagari

, 55 x 66 inches, oil on canvas, 2014










Wong Kit Yi, Hong Kong Weather Modification Office (Square cloud), 2019. Courtesy of the artist | 黃潔宜,《香港人工影響天氣辦公室(方形雲)》2019. 圖片由藝術家提供



Wong Kit Yi (b. Hong Kong) lives and works between Hong Kong and New York. Her artistic interests center on odd scientific findings and the dysfunctional marriage between science and pseudoscience. She researches genetics, DNA technology, mythology, Japanese manga, meteorological interventions, models of ownership/leasing, and the biology of aging and immortality. She wonders which is harder to modify—weather or people.

Wong's solo shows include Magic Wands, Batons and DNA Splicers (Art Basel Hong Kong, Hong Kong, 2018), and Futures, Again (P!, New York, 2017). Her works have been included in group projects at the Latvian Centre for Contemporary Art (Riga), Para Site (Hong Kong), and the Queens Museum (New York). Reviews have appeared in such publications as the New York Times, Art in America, Contemporary Art Daily, e-flux conversations, ArtReview, ARTnews, Asian Art News, The Art Newspaper, ArtAsiaPacific, China Daily, LEAP and Modern Painters et cetera. Wong received her MFA from Yale University in 2012. She speaks native Cantonese, fluent English, and hysterical Mandarin.


Hong Kong Weather Modification Office (Square Cloud)
Karaoke Lecture Performance
Wong Kit Yi will present a lecture performance as part of her on-going project about human interventions on the weather and natural resources and the attempts to claim dominance over meteorological phenomena. Wong will employ historical anecdotes, cross-cultural studies, witchcraft and magic, and the most current crises that face Hong Kong, as well as screen a new karaoke music video, a recurrent form in her practice on the subject.
"But what does it really mean to control or modify weather within or beyond political borders? Clouds, like people, can float across borders—perhaps much more easily than people. We can't control the travel of a cloud by not issuing it a visa. It's definitely not hyperbolic to say that the movement of people across borders is a pressing political concern, both in Hong Kong, the
United States
,
Europe
, and
elsewhere
. The concept of the "nation-state" is bounded—it begins and it ends. Its borders might shift over time, but out there is a line—both social and physical— that creates an 'us' and a 'them'…"
—Wong Kit Yi
Claire Fleury, originally from Amsterdam, is a Brooklyn based Costume and Fashion Designer since 2014. She is perpetually looking for a perfect balance between elegance and wit, funkiness and comfortability, originality and tradition. By using vibrant textiles and easy going but structural silhouettes she creates an array of colorful original garments that are meant to adorn and celebrate the human body in all its glory.
On September 5 2019, her latest collection called HELLO I LIVE HERE was featured at the DapperQ annual queer fashion show at the Brooklyn Museum. HELLO I LIVE HERE is a collection of colorful extravaganza—an ode to planet earth and the diversity of creatures that inhabit it.
The images are showing the backstage before the actual show; that brief window of time filled with anticipation, expectation, nervousness, exhilaration and comradeship.
Credits
All designs by Claire Fleury, Photography by Alesia Exum
Models—Munroe Lilly, Seana Steele, Alonzo Cruz Bourne,
Rakia Seaborn, Mojo Disco, Shane O'Neill
Hair—Jonathan Spence
Make Up—Strawberry
Choreography—Larissa Velez-Jackson
Assistant—Thom Barranca

Honey, I'm Data! at IMPAKT Festival 2018, Utrecht
Keiken in collaboration with Suzannah Pettigrew, AGF HYDRA,
George Jasper Stone and Nati Cerutti. Photo by Pieter Kers.




Digital Pleasures at MIRA Festival 2018, Barcelona
Keiken in collaboration with Nati Cerutti, Sophie Mars, AGF HYDRA,
George Jasper Stone, Suzannah Pettigrew and Zaiba Jabbar (Hervisions).




Silicone_Animism | The Birth of Mother Digital (Trimester 3)
at Hervision's London Launch, Second Home (2017)
Keiken in collaboration George Jasper Stone, Nati Cerutti, Haruka Fukao and 700ok.




Keiken, meaning experience in Japanese, is a hybrid practice. Through an intersection of moving image, new-media installation, virtual/augmented reality and performative lectures they test-drive impending futures in the realms of the "phygital"; physical and digital. They reflect on the contemporary as though now is history, exploring the strands and interrelationships of our world; inequality, techno-capitalism, climate change, politics, popular culture and science.

When working collectively they become part of a fluid entity, an open-source ecosystem; with interchangeable roles, collaborators shape, challenge and transform projects. Taking elements back into their autonomous practices, this exchange nurtures both themselves and Keiken.

World-building is both their creative methodology and technique to grow collaboration. By merging multiple voices and mediums with collective critical thinking they create immersive experiences. Simulating new structures and ways of existing, they explore how societal introjection governs the way we feel, think and perceive.

Keiken were recently selected for Jerwood Arts new programme 'Collaborate!' and will be exhibiting a new film in collaboration with George Jasper Stone in Autumn 2019. They have toured their performative lecture "Honey, I'm Data!" at IMPAKT Festival (Utrecht), Hervisions at LUX Moving Image and Space Art + Technology (London). Recently they were also part of the panel 'Technology and its Intersections' at ICA (London). They have exhibited and curated at CTM and Transmediale's Vorspiel festival (Berlin), MIRA Festival (Barcelona) and U Studio at Tate, St Ives. Keiken were the first artists to have their virtual reality film projected 25,000 light years into space by Jon Pettigrew for Planet3artnews.













HAPPY POET

I am a poet
Of some kind
Sick in bed
With a chest cold
I got from my lover
And he got it in Venice
Along with a pair
Of velvet slippers for me
They are fuchsia
I have built my throne
With four pillows
The window is open
Because it is finally spring
I am a poet
Above all other things
Because I sense the world
In this v. annoying way
Scraping words together like grout
I deal with feelings
Feelings are true art
The textures we make of time
Feelings are not one's capacity
To recall all
Of the marvelous things
Someone else once wrote
And daisy chain them to your poem
You sick pedant!
I am sick
In bed
A poet with a cold
In a pink satin robe
I think I grow tensions
Like flowers
In a wood where
Nobody goes
Today I read an article on CNN
About a rhino poacher
Killed by an elephant
And eaten by a pride of lions
In my eye, a twinkle
Sweet justice
But in my chest, cold despair
He had daughters
Who are left to deal
With a gruesome death
And the sordid details
Of their father's life as part of a rhino horn syndicate
Poaching for quick cash on the black market
Some people try to write novels like this
But they take too long
There are too many characters
When the only one that matters
Is you
I am a poet
Blowing my nose
Into old rags
My roommate brought them home
From the meditation studio
Where they were once soaked
In hot water and tea tree oil
Or maybe lavender
And draped over people's faces
To soothe them
To help them detach
Stop thinking
I am a poet
Watching the sun do its thing
Kiss my face
Like you do
And now the window
Exhales the light curtain
Empties its breath into my hair
It flutters before my eyes
And inhales the light curtain
So it flicks back outside
The chest rises
The sea rising
It's the most exciting thing
To happen all day
To me
A poet
With a cold
Of some kind
The tea
Has run cold
Oh well
I have my throne


Candystore




Candystore is a multidisciplinary artist, poet, and performer from San Jose, CA. She-he is a 2018-2019 Queer | Art fellow and 2018 -2019 resident with

Shandaken: Governor's Island

. Candystore's writing and art have been published in Paper Magazine, Riot of Perfume, Phile Magazine, RFD, Mesmer, Hand Job Zine, and others. She-he has performed around New York City at Moma PS1, Club Cumming, The AC Institute, LaMama Galleria, Dixon Place, Picasso Machinery, Secret Project Robot, and every time she-he uses a public restroom. Candystore lives in Brooklyn, NY in a pink room.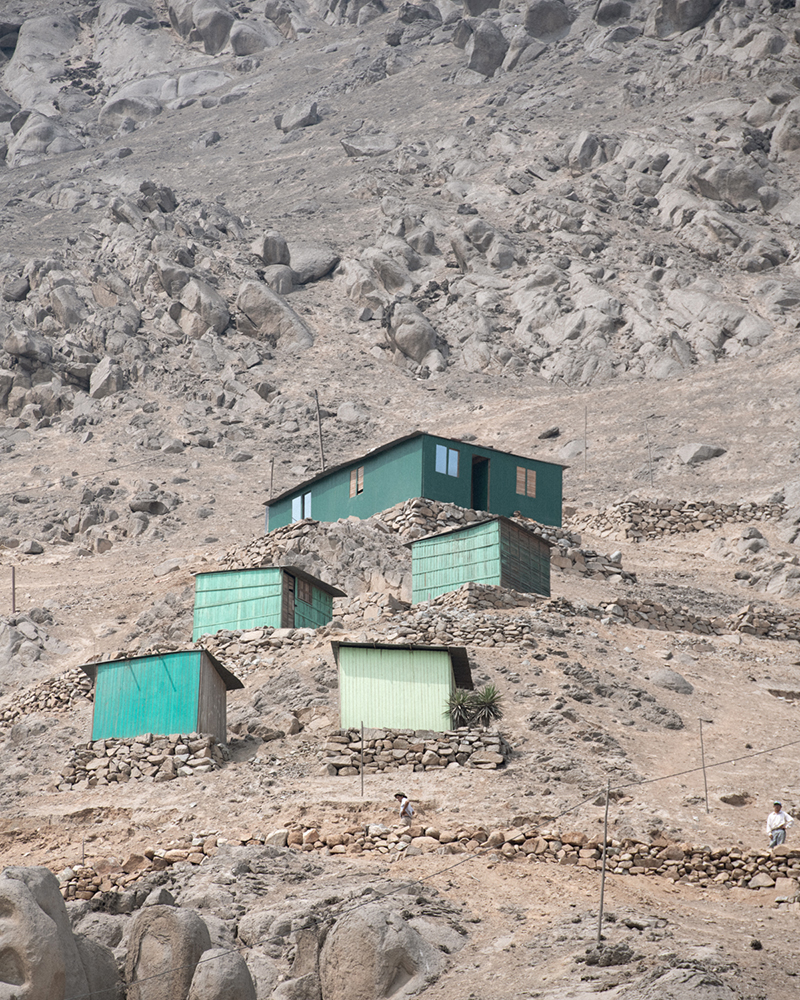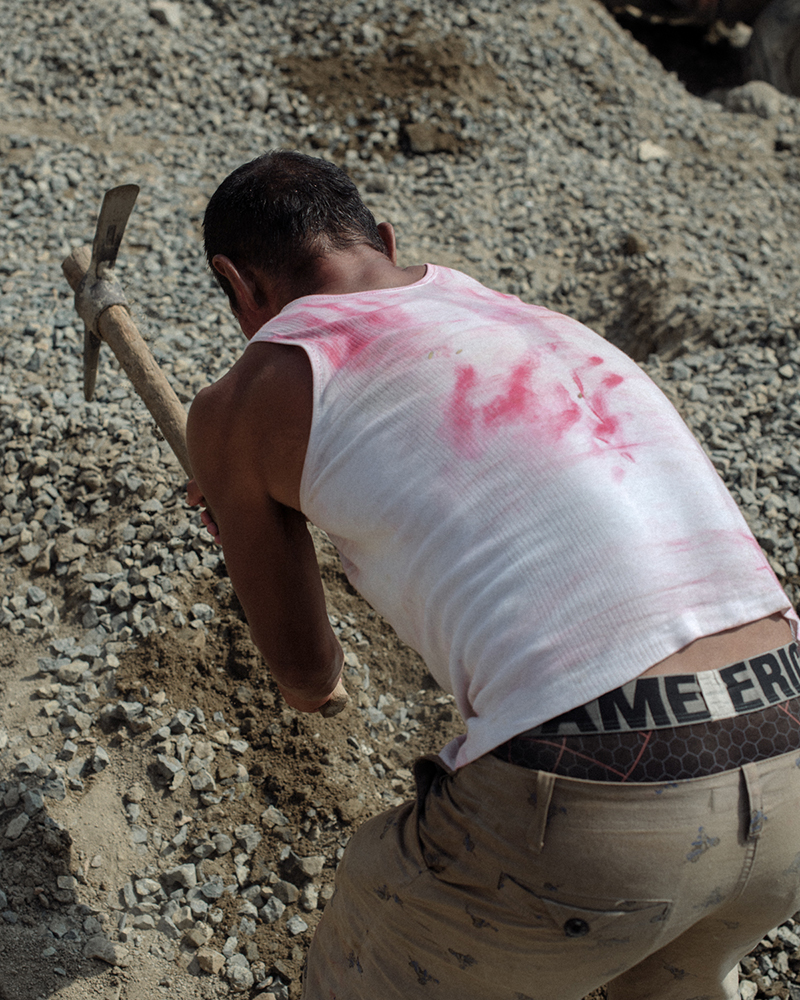 Carlos Jaramillo, born in McAllen, Texas is a fine art and commercial photographer based in New York City. Graduate of School of Visual Arts with a Bachelor of Fine Arts in Photography. His work explores Latin America, and people of color living in and outside of the United States. He is interested in showing places and people often ignored, their true selves, and their beauty.

Image courtesy of Leah Cobelli



Image courtesy of Ochi Projects



Image courtesy of Ochi Projects



Image courtesy of Ochi Projects



Image courtesy of Ochi Projects



Image courtesy of Ochi Projects




Cara Chan was born in NJ. She received her BFA from New York University and her MFA from UCLA. Her recent works employ pareidolia to explore the way humans perceive themselves in the landscape. She incorporates natural materials such as gems, fossils, and common beach stones into fetish finished reliefs and busts that playfully distort classical forms. Cara Chan lives and works in Los Angeles.










Eyes, 2017




Shirts, 2017



Unicorn (Chocolate), 2017




Handshake(2017)




Iiu Susiraja (FIN), 1975. Susiraja has graduated as an artist in Turku Art academy, Finland in the year 2012 (BA). And in the year 2018 she graduated in Finnish Academy of Fine Arts (MA). As the major substance was photography. She also makes short videos. Susiraja`s the solo exhibition in the project room in the Museum of the Finnish art of photography in the year 2011 raised up Susiraja at the first time to the public knowledge. The first solo exhibition in United States called What am I? which was seen in New York, Ramiken Crucible gallery was one of the most important exhibitions for her career. Susiraja`s pieces of art now in several major collections (Rubell Family Collection, Venus gallery, Heino art foundation, Helsinki Art Museum, Kiasma Museum of Contemporary Art, Finnish National Museum, Finnish Museum of Photography, Wäinö Aaltonen Museum of Art and Päivi and Paavo Lipponen Collection, Stavanger museum, Gothenburgh Museum of Art).










中东功风空 . Zhong Dong Gong Feng Kong
Digital collage



Five Movements 五種流行之氣 (Film Still)
Directed by Lily Jue Sheng, co-produced with Anjuli Rathod



Aegyptia (Film Still)



You Spin me Right Sound (Film Still)




You Spin me Right Sound (Film Still)



Change 变 (Film Still)



Lily Jue Sheng makes moving images with film, video, 2D mixed media, and multi-projection performance & installation. She graduated from the School of the Museum of Fine Arts in Boston, MA, and is currently based in New York City & New Jersey. She exhibits in a wide range of contexts such as museums, galleries, universities, film festivals, theaters, electronic billboards, and projection mappings for unique spaces. Her work has shown at the Whitney Museum of American Art, Parrish Art Museum, Microscope Gallery, Eyebeam, Pioneer Works, Flux Factory, and the Knockdown Center in New York; Mana Contemporary in New Jersey; the Museum of Fine Arts in Boston; the Musée d'art contemporain de Montréal in Montreal; the 1933 Slaughterhouse (老场坊) and West Bund Art & Design Fair in Shanghai; and 3331 Arts Chiyoda in Tokyo.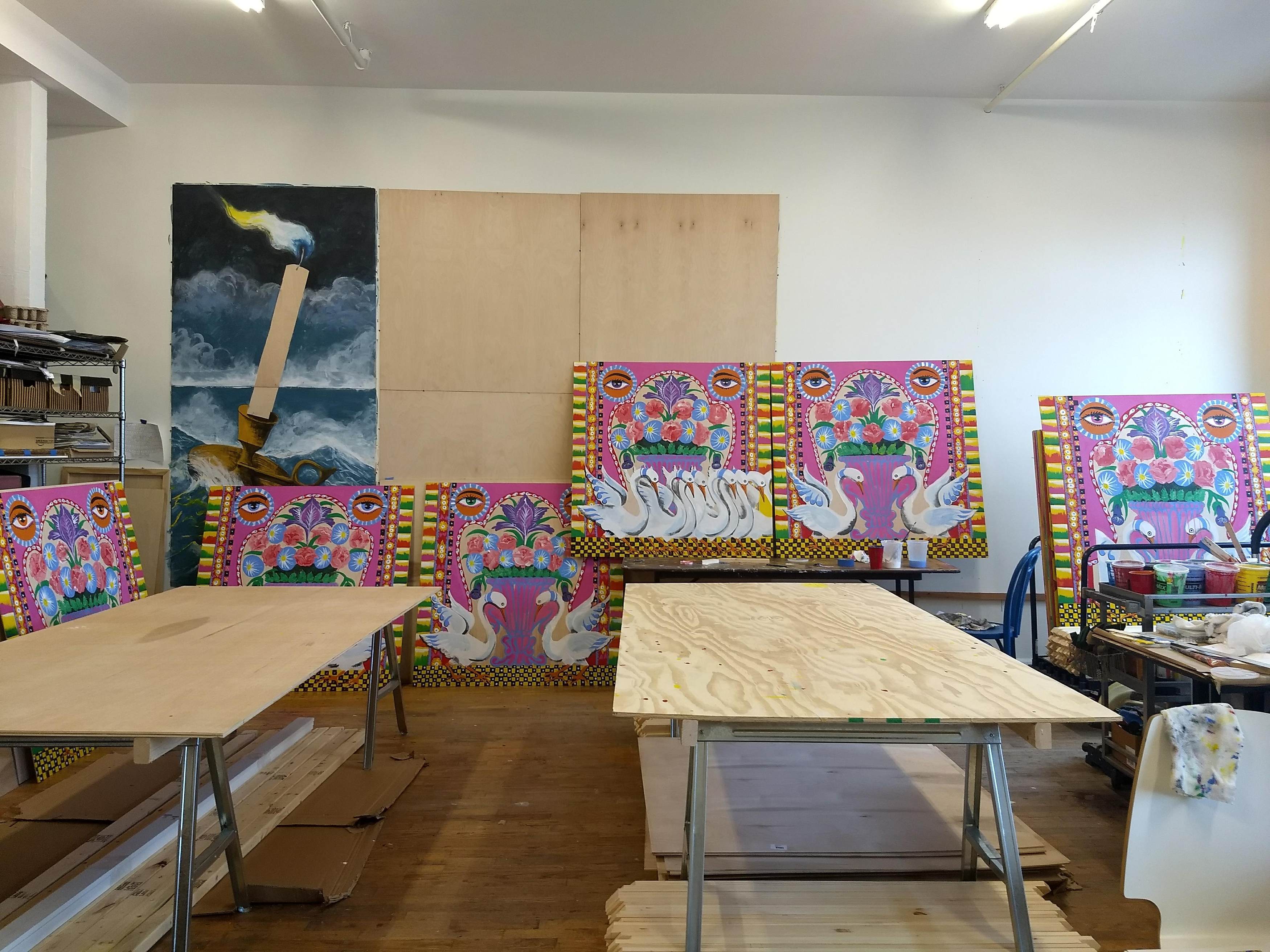 Iman Raad (Mashhad, Iran 1979) received his MFA in Painting and Printmaking from Yale University (2017), was a fellow in the Shandaken Projects' Paint School (2017-18), and is currently a resident in the Queens Museum Studio Program (2018-20). He lives and works in Brooklyn.

Iman Raad's work presents a contradictory combination of beauty and fear. His work addresses humankind's anxieties by staging a traumatic scene of a disturbance in reality. He foregrounds ornamental elements, which that inverting the art historical narrative of ornamentation. His work presents subjects like birds and fruits, that are extracted from traditionally decorative and neutral contexts and juxtaposed with present concerns and future plans.

His recent solo exhibitions include Tongue Tied, Sargent's Daughters Gallery, New York (2017) and Forty Drawings and So, Dastan Gallery, Tehran (2016). Raad is installing a large-scale mural in the 9th Asia Pacific Triennial of Contemporary Art in Brisbane, Australia, opening in November 2018. The following photos are studio shots showing the mural in progress in his studio in Bushwick, between June and September of 2018.
Portrait in B&W, 2017. Oil on canvas.



Portrait Sanca, 2018. Oil on canvas.



Portrait–Norway, 2017. Oil on canvas.



Sweaters and Sweethearts, 2017. Oil on canvas.



Inverted Sisters and Many Hearts, 2018. Oil on canvas.




At some point in my practice, I realized that the landscapes I depict do not correspond to real space or time. I understand them, instead, as fabricated memories of all the places I've called home over the past 10 years. Having lived in such contrasting cities as Rio de Janeiro, London, New York and Nairobi, my body had to adapt, growing amidst the new prejudices of each place. My work is for me a product of those confusing experiences.

The figures in my paintings, although fictional characters have always been females: who I suppose are a hybrid of myself and other women my life. My goal is to give them agency as I obsessively repaint them again and again. Art is a way I can play with, and therefore take ownership of, my femininity, sexuality, and body. Through painting, I liberate my sense of self from the restrictive notions of gender, race, and identity that surround me. It excites me to explore the conventions of the visual languages artists have developed throughout history, but I am primarily preoccupied with finding freedom within these languages. Art is not all about linguistics: there is something that goes beyond the verbal and allows for ambiguity and fluidity. For me, this tension between limits and freedom is what brings me back to the studio every day.

Marcela Florido (b. Brasil, 1988, currently Brooklyn, NY) received her BA from The Slade School of Fine Art in London and her MFA from Yale University. Florido has had solo exhibitions at the Institute United States (Brazil, 2016) and Sharjah Art Foundation (UAE, 2014). In 2017, she was a resident fellow at MassMoCa, MA and at the Vermont Studio Center, VT and in 2015 the artist received the Viridian Prize from Lauren Hinkson, senior curator at the Solomon Guggenheim Museum. Her work has also been exhibited in the Cervantes Institute (New York, 2017), Cambridge University (Cambridge, UK), the Institute of Contemporary Art ( Las Vegas, 2015), the Arts Council of Greater New Haven (New Haven, 2014) and Fabrica Bhering, (Rio de Janeiro, 2009).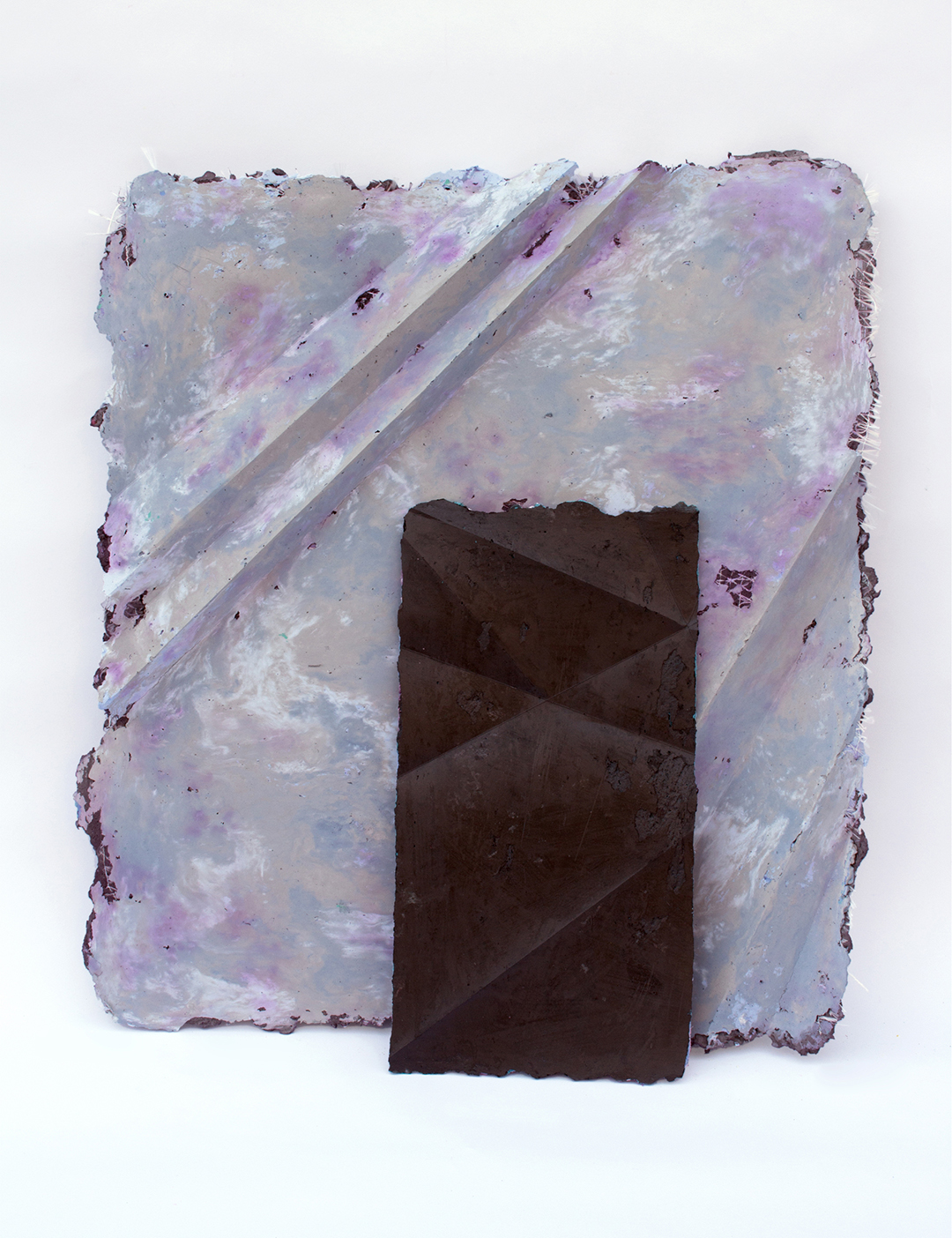 Mariana Garibay Raeke is interested in color. The objects she makes are places where color can materialize, become object or image. They result from experimentes that follow a particular logic—mixture of intuition and knowledge—which often gets repeated but never duplicated. These objects are fragments of an open conversation between the similarities and difference of the material she chooses and the procedural logic that transforms them. Her work captures moments in the process of becoming and suggests a potential for continuous change.

Garibay Raeke was born in Mexico and is currently based in Brooklyn. She holds a BFA from the California College of the Arts and an MFA in painting and printmaking from Yale University School of Art. Her recent solo exhibitions include "closing the space between us", The Chimney, Brooklyn (2018); and "Every Number is One", Transmitter, Brooklyn (2015). Last Year she was an artist in resident at the Museum of Arts and Design, New York; and Anderson Ranch Arts Center, Snowmass, CO.

FAIR HAVEN, 2017. Oil on big canvas.



GOD??? 2017. Digital drawing.



Home For The Coming Season, 2016. Oil on medium canvas.



Roller God, 2016. Oil on huge canvas.




Lucia Love was born in Manhattan where she lived in a thin triangle with parents and a tv that only showed tanks playing in the sand. Years later her mother retired from her city life making clothing to do yoga in the Berkshires. Her father, a resume man with a Leica who's famously never had a job, disappeared into the Desert View Drive.

Young Love became schooled in the city on a dime from Jasper John's Foundation for Contemporary Arts. She studied animation and painting at SVA. It was common to discover yourself there by researching conceptual movements of the 70s and making ironic statements about the 90s. Upon graduation in 2012 she became the assistant director of Family Business gallery which put on shows of hot young art every two weeks before the hurricane took our baby away.

Currently Lucia Love has been working with myth, legend, symbolism, crayons, Leipzig school techniques, talking dogs,

Shooby Taylor

, and hours of sleep paralysis at the gateway to the astral plane, to create a series of Doomerangs. These creatures just keep returning to doom—when you throw them right.

@lucia_love







Blinn &
Lambert


"Untitled (Broom, Out)", 2017, 3D anaglyph installation, 82 x 80 x 84 inches
(Detail) Image courtesy of Microscope Gallery




"New Grey Planet" exhibition, 2017
(Installation view) Image courtesy of Microscope Gallery




"New Grey Planet: Chapter 1", 2016, single-channel HD video, sound,
8 minutes 6 seconds (Still), Image courtesy of the artist and Microscope Gallery




"Doe, a Deer", 2017, single-channel HD stereoscopic 3D video, silent,
4 minutes 4 seconds (Still), image courtesy of the artist and Microscope Gallery



Blinn & Lambert is the collaborative pseudonym of Nicholas Steindorf and Kyle Williams. They work in digital animation, video, sculpture, and practical special effects. Steindorf and Williams met while attending Yale's MFA program in Painting, and live and work in Brooklyn and Queens, New York. Blinn & Lambert has recently screened work at Icebox Projects in Philadelphia and at Microscope Gallery in Brooklyn. Nicholas Steindorf (b. 1987) holds a BFA from Columbia College Chicago and an MFA in painting from Yale University (2014). Kyle Williams (b.1982) holds a BA from Stanford University in Art History and an MFA in painting from Yale University (2015). Steindorf and Williams both live and work in Brooklyn, NY.
Julia
Bland

Julia Bland's large-scale works incorporate painting and weaving, developing the structures and patterns that bind disparate elements into a whole. Through weaving, cutting, sewing, dying, and painting, the surface becomes a visible record of her evolving, multi-faceted process.

Bland's recent solo exhibitions include "Things to Say at Night" at MILLER Contemporary in 2017 and "If You Want To Be Free" at On Stellar Rays in 2015. She has been an artist in residence at The Sharpe-Walentas Space Program, Lighthouse Works, Yaddo, The Woodstock Byrdcliffe Guild, and The Skowhegan School of Painting and Sculpture. She has been awarded The Milton and Sally Avery Fellowship, The Carol Scholsberg Memorial Prize, The Jacques and Natasha Gelman Trust Travel Fellowship, and the Florence Leif Award. She earned her BFA from the Rhode Island School of Design in 2008, and her MFA from Yale in 2012.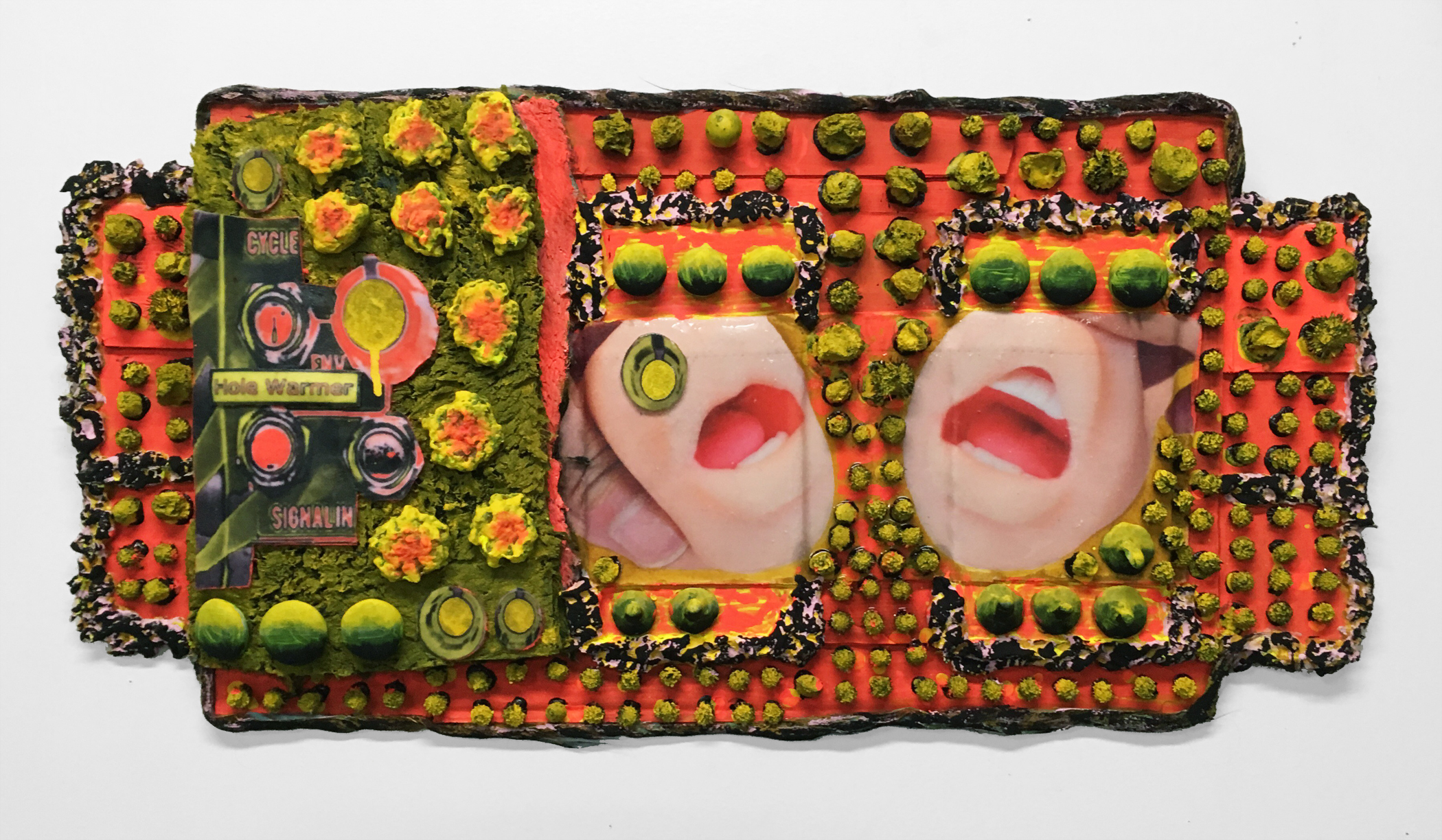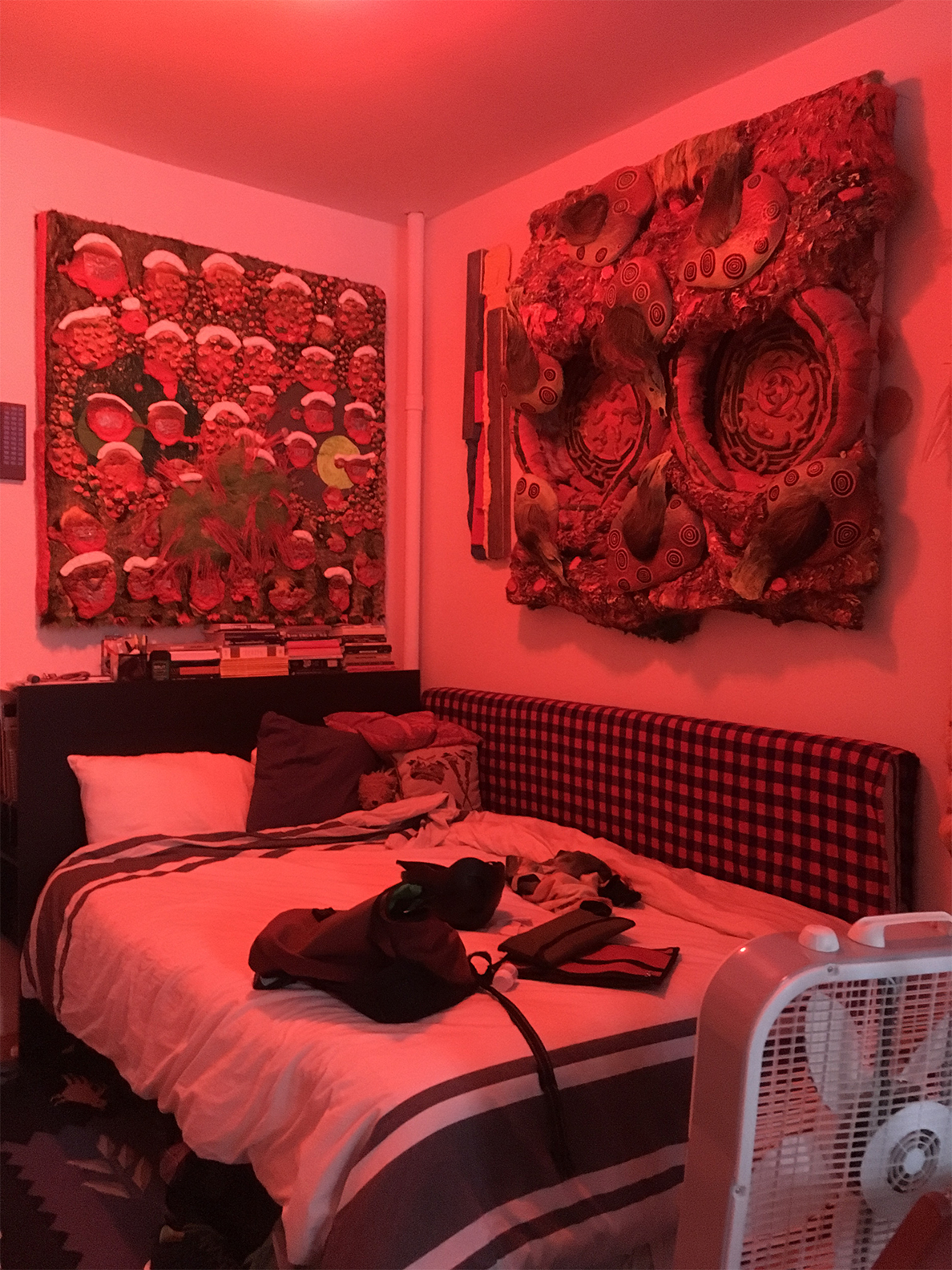 Kari Cholnoky lives and works in Brookyln, NY.


Kimberly Kruge is a poet and translator and the author of
High-Land Sub-Tropic
, which was selected as the winner of the 2017 Center for Book Arts Chapbook Prize by Juan Felipe Herrera. Her other manuscripts have recently been finalists or semi-finalists for 7 other book prizes. Her work has appeared or is forthcoming in
Ploughshares
,
The Iowa Review
,
The Massachusetts Review
,
Poetry Northwest
,
Copper Nickel
,
Luvina
and elsewhere. She is a graduate of the Warren Wilson MFA Program for Writers and the recipient of a residency at the Millay Colony for the Arts. She is also the founder of Comala Haven, a retreat and workshop in Mexico for women writers. She lives and works in Guadalajara.
Modified Balloon, 2016, 30" x 45" Print




Lips, 2017, 42" x 63" Print



I'll Be Your____________, 2017, 32" x 23" Print



Still frame from Posing, 2017



Assimilation, 2016, 20" x 16" Print




Dalia Amara is an American-Jordanian multidisciplinary artist living and working in Brooklyn, New York with a practice based in photography, video and performance art. Amara received her MFA in Photography, Video and Related Media from the School of Visual Arts in New York, and her BFA from Columbia College Chicago. Her work uses the domestic space or photo/video studio as a staging ground for sites of trauma, desire, and banality. Amara's recent photographs and videos are invested in the visual language of feminine beauty, and the anxieties of assimilating to cultural expectations. Born to multi-ethnic parents, and raised in the US, Jordan, Egypt, Qatar and UAE, the ever-changing home, along with the varying and at times contradictory cultural expectations, have all been at the heart of Amara's motivations in her work. Amara has been featured in Paper Journal (UK), Art F City, and The Art Newspaper. She most recently participated in "Skin Dips," a two-person exhibition with Florencia Escudero at Selena Gallery in New York. Her work will be included in the forthcoming group exhibition "In Pursuit of the Perfect Pose" at Gallery 44: Centre for Contemporary Photography in Toronto.









Panayiotis Terzis (b. 1983, Thessaloniki, Greece) lives and works in New York City. Recent exhibitions include: Endless Biennial, Elizabeth Foundation, New York (2016); Nieves and Innen Zine Library, Swiss Institute, New York (2016); and Spring/Break Art Show 2016, (curated by Andrea McGinty) Moynihan Station, New York (2016). His work has been featured in publications including Vice Magazine, Mould Map II, Zine Soup, Salt Hill, Gigantic Worlds, Cosmos, and Creeps Annual, and he has worked with American Apparel, Digitaria, and other brands. His artist books, zines and print editions are held in the permanent collection of the MoMA Library, the Brooklyn Museum, the New York Public Library and the collection of Stanford University among others. He teaches printmaking and color theory at the School of Visual Arts and Parsons.
MEGAPRESS
@_pppannn

@mmegapress

Stephen Miguel Decker is an artist based in New York. He has participated in a yearlong residency program at the MoMA PS1 Print Shop as a part of the artist-collective ALLGOLD, presented an evening-long performance to inaugurate the Filipino American Museum and extends his activities as a DJ on the London-based station NTS Radio, where he hosts a monthly show, NODE. Stephen often works in the areas of sound/music and more recently in web development/design. He is currently a part-time lecturer at The New School where he has taught classes on sound as an artistic medium and experimental publishing methods.
Deadname
Benjamin I. J. Mintzer
& Chris Eh
Deadname is a two-piece punk band from Brooklyn, New York (Chris Eh: Guitar/Bass/Programming; Benjamin: Vox/Keys). Drawing equal inspiration from 80s dance and hardcore punk, the band's sound aims to answer the question: 'What would the Jekyll-and-Hyde approach of Bad Brains sound like if you swapped the reggae and homophobia for synth-pop and radical queer consciousness?'

After releasing a handful of singles last fall, the band is currently toiling away on their first EP and putting together a summer trek around the U.S.


Catherine Telford-Keogh is an artist currently based in Toronto, ON. Her work examines the visual and material language of objects and their relationship to the body through sculpture and video. She makes abstractions using recognizable forms such as tables and trays that act as display strategies and containers for aqueous or encrusted material and objects alluding to the body.

Catherine's work begins from intuitive responses to ubiquitous and mass-produced objects and advertising whose aesthetics and material language override intended use or promise. She amplifies this tension though interventions in quantity, function, assemblage, scale and material to explore the absurdity of our idea of an object and its reality.

Catherine incorporates materials such as real and fake food, NyQuil and Internet images in her work. These materials change one's mood, desire, chemical and hormonal makeup and challenge a sculpture's purported inertia and autonomy. Caretaking is a process integral to each sculpture because perishable materials require continuous replenishment, which is an extension of their making in the studio.
Photo: Thibault Théodore-Babin
Photo: Katya Moorman & Karen L. Dunn
Randi Shandroski is a Canadian born artist living in Boston, MA. In January of 2014, she founded
LACTIC
Incorporated, an avant-garde clothing brand that takes the detritus of corporate life and reinterprets it into one-of-a-kind structural garments that challenge the polarization of gender and critiques existing power structures.
LACTIC
is a collaborative effort that brings together the talents of several creatives to produce runway shows, installations, photoshoots and performances.
Many of the clothes are made from discarde; advertising banners, which are thoughtfully cut up and reconfigured in a way that subverts corporate culture and underscores the absurdity of modern advertising.
LACTIC
believes that what you wear can have the power to affect change in the wearer and alter people's perception of the world around them.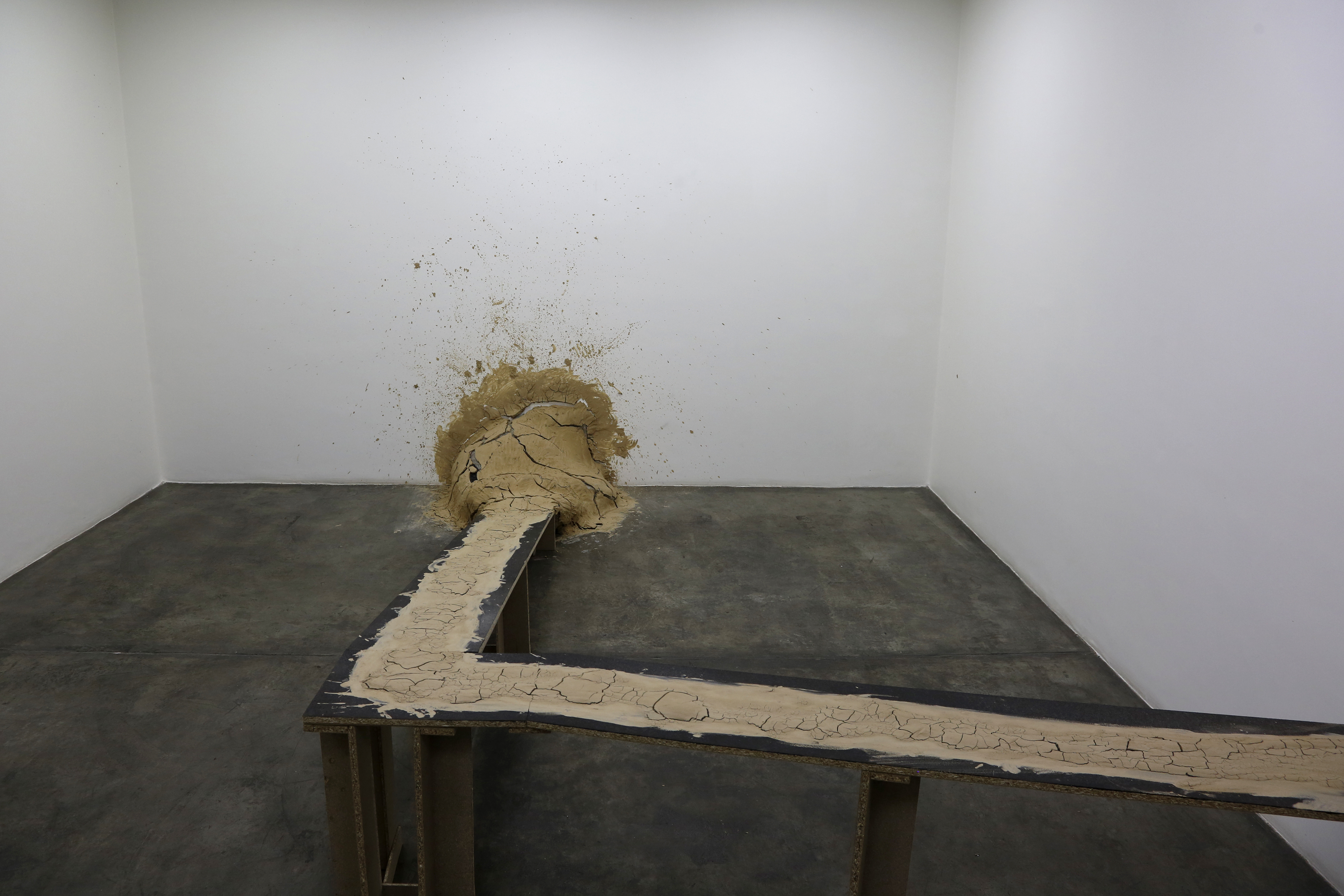 Shahrzad Changalvaee's practice responds to sculpture in a vast field of media, including installation, video, photography, text, and performance. She constructs unities of prints and multiple elements in a non-hierarchical rhizomatic connection system. Her recent photographs of accumulation of studio tools and material manifest resistance to organizational structures and patriarchal grid.

Shahrzad was featured in Shanghai Biennial (2012), was the artist in residence in the Delfina Foundation in London (2012), and currently was a co-director of Bon-Gah collective in Tehran. She received a B.A. in Graphic Design from Faculty of Fine Arts, Tehran University (2006) and her M.F.A. in Sculpture from Yale University (2015).